Daily Dose of Sunshine is the story of a Psychiatric nurse, Jung Da Eun. As a Psychiatric nurse, she comes in contact with people from different walks of life suffering from various problems while she suffers during her time as a nurse.
Directed by Lee Jae Goo, the director of "All of Us Are Dead", Daily Dose of Sunshine seems to provide us with just that, a dose of sunshine to live well. Starring Park Bo Young as nurse Jung Da Eun, Jung Do Yoon as Song Yu Chan and Yeon Yoo Jin as Dong Go Yoon, the series perfectly tie together the stories of the character in a way that portrays them as life-like as one can imagine.
the director of all of us are dead said yeah i'll do #dailydoseofsunshine but i'm gonna need to bring half my cast with me pic.twitter.com/cUJEXvMyv0

— Ayrahum (@ayradraws) November 3, 2023
Daily Dose of Sunshine Episode 1- 12 Recap: What is the plot?
The series follows the life of a Neuropsychiatric nurse, Du Eun, on her journey to becoming a seasoned nurse. While the journey follows her, the story itself branches out to include the lives of many others. One of the best qualities of the series is to come up with very well-fleshed-out characters. The flow of the series is also phenomenal.
From her difficulty with her very first patient as a neuropsychiatric nurse, who was suffering from bipolar disorder, to using her empathic nature to help her on her journey. The very first episode sets the tone of what to expect from the series. The series employs a beautiful blend of technical knowledge and genuine human lives to produce stories that seem more life-like than many while not missing out on the factual aspect of mental health.
Anyone can suffer from mental health issues, and people who might seem to be perfectly healthy might also be suffering, is the message from the first episode. Yet one of the most poignant themes of the series is how these issues can be dealt with or perhaps altogether avoided with minor changes made in our lives.
The second episode highlights social anxiety. Da Eun herself shows signs of it. While her patient's anxiety was aggravated due to workplace exploitation, Da Eun's issue seemed to be improved by the empathetic behaviour of her peers.
While the previous episodes did show that mental diseases might affect anyone, episode 4 talks about just how close someone suffering from it can be without one noticing it. Yu Chan, Da Eun's childhood friend, has a panic disorder, as does one of the new trainees in the ward. Even though it takes a while to convince them, they eventually agree to receive treatment.
The series provides a beautiful commentary on relations as well.
From romantic relationships between Doctor Hwang Yeo Hwan and Nurse Min Deu Lae and Da Eun and Go Yoon. To simple relationships between colleagues and patients. "All roads lead to Mr Yoon" becomes a catchphrase as Mr Yoon, who has worked there for 30 years, seems to know the solution to everything. His insight into the people's past makes them more human.
Why are they like this? 😭😂#DailyDoseOfSunshine pic.twitter.com/43vyAjN6l4

— Steph 🍀 (@athousandstephs) November 3, 2023
Even though Da Eun, who thus far has shown exemplary behaviour in dealing with her patients, she finally breaks while dealing with a dissolution patient. This indicates that even the most patient people might run out of empathy.
Yet, it is a patient who helped Da Eun get back on her feet. A kind gesture from one of her patients who was suffering from schizophrenia cheers her up, and she learns to see patients as people with a past rather than just someone suffering from a disease.
The series further delves into the lives of the nurses as well. We get an insight into the lives of one of the nurses as the ward gets a person who was suffering from pseudodementia due to her being overworked to the point that she doesn't even realise that she had depression.
When the nurse realises how similar they are, she admits to taking a step back and taking care of herself before she gets as bad as the patient.
Kim Seo Wan, one of Da Eun's favourite patients, starts to recover. As he does, he comes to the sense of his state and how much time he has lost due to his mental illness. Being a civil servant aspirant, time is something Seo Wan can't afford to lose. Scared of returning to the world, he tries to pretend not to have recovered, but Da Eun notices.
Seo Wan is released, but he is unable to take the stress and commits suicide.
Daily Dose Of Sunshine: What happens in episode 7?
Episode 7 provides a commentary on the trauma suffered by people who keep surviving the deaths of close ones. The series offers a heart-touching performance on how everyone deals with death differently, how doctors who deal with death every day get as much rattled by it as people who are close to the deceased.
One of the best things about the series is its insistence on human relationships as a cure. While no amount of talking could get Seo Wan's father to calm down, the simple act of the head nurse sitting with him in silence seemed to put things in perspective for him. Even the act of apologising to another person pretending to be his dead wife appears to help a man who has suicide-related PTSD.
Of course, there are some severe reactions to death, such as Da Eun, who had forgotten about the incident altogether. After coming to her senses, Da Eun falls into a depression to the point that she has to be put in a psychiatric ward herself.
Even though she initially refused to get treated after things were put into perspective, she tried to do well in earnest. During her treatment, she realised that she had often put others before herself, which had caused problems in her life.
Stigma related to mental health seems to be, thus far, an untouched topic is opened here. The news of Da Eun's treatment is spread in the hospital, and guardians of the patients start to rally against their employment in the ward.
Similarly, the head nurse who had a sister who also had mental illness struggled to find a place to stay where they wouldn't oppose her sister staying there.
The stigma around mentally ill people as dangerous or disabled is talked about here. While the people in the society can't be changed overnight, the hospital takes a step in the right direction by supporting Da Eun.
The story ends on a good note as Yuchan joins the workforce again. This time, instead of getting drowned by the workload, he takes a step to draw boundaries in his workplace.
Da Eun starts to date Doctor Go Yoon, and the relationship between Doctor Hwang Yeo Hwan and Nurse Min Deu Lae finally stabilises after she decides to cut off her mother and admit her feelings for Yeo Hwan. She finally decides to start living for herself as she joins a cruise ship, something that genuinely excites her.
The nurse trainee who had taken leave due to his panic disorder also joined the task force.
As Da Eun introduces the trainee to the psychiatric ward, the series comes full circle.
Daily Dose of Sunshine Ending Explained: Does it have a happy ending?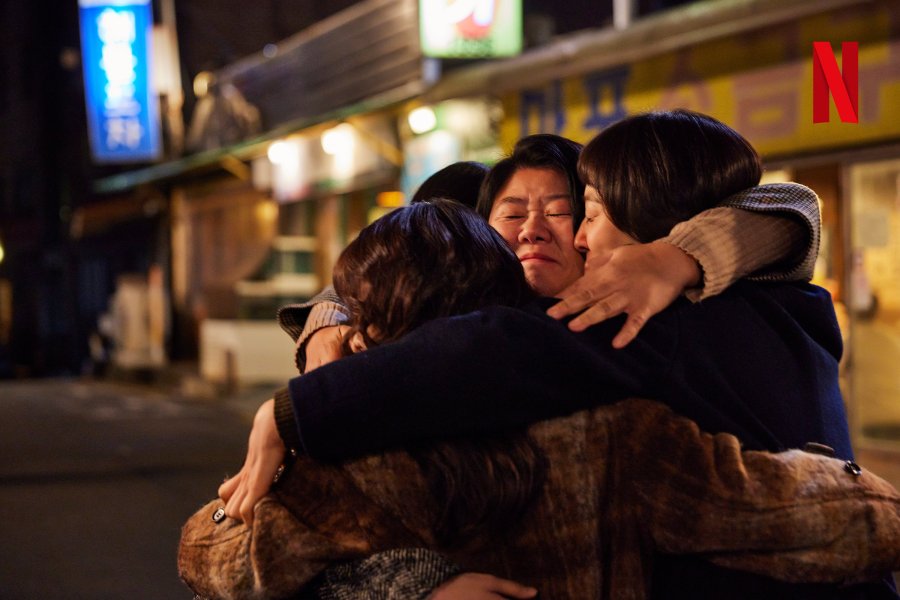 The series itself ends on a good note. While some tears are guaranteed, the show overall has a warm tone that makes you feel comfortable. The development of the relationship between the characters seems very organic.
The relationship between Doctor Hwang Yeo Hwan and Nurse Min Deu Lae is particularly interesting in this font as they try to overcome their past to come close to each other. Even though at the end, Deu Lae decides to go on a cruise, they still promise not to break up, showing remarkable character development on her part.
The standing of the nurses and doctors is also brought into focus. The importance of nurses is admitted even by the doctors eventually.
As a series shining light on mental health, it not only highlights the "why" and "what" of mental health but also provides a comprehensive narration of life in the present age. The series beautifully ties together mental health with rounded backstories of characters that appear even for a single episode.
The major takeaway from the series is that while mental illness may not always be completely curable, it is something that can be dealt with. It provides a narrative of a life with no glass ceiling.
"What we probably need right now is the courage to be disliked. And yet, our need to be loved, for others approval make us take knife to our souls, to sculpt an idealized version of ourselves. And that's why we're always unhappy and in pain."

~#DailyDoseOfSunshine (2023) pic.twitter.com/uoUakchmoe

— keeks🐾 (@j1soocore) November 3, 2023